Google is worth $190 billion. It was found by Larry page and Sergey Brin . Its head quarters is at California, United States . It is rated as the world's best spot to work ,It has over 24,000 employees. Since 2001, Google has acquired many companies . Ninety-nine percent of Google's revenue is derived from its advertising programs. Google was also nominated in 2010 to be the world's most attractive employer to graduating students in the Universum Communications talent attraction index. I would like to rank Google's Top 10 products in this post .
1.Google Search :
Google search was originally developed by Larry Page and Sergey Brin in 1997 . The search results are based on page rank . Google search is world's No.1 website . No net user can avoid using Google search . Google runs over one million servers in data centers around the world and processes over one billion search requests . It is the home page of most of the internet users. Every one would be very familiar with this google product ,so int much for me to say  .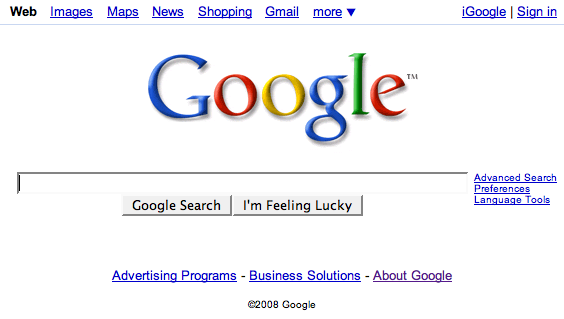 2.Youtube :
It was launched in February 2005. It uses Adobe Flash Video technology to display a wide variety of videos . It allows us free upload of our video and have channel for our own to share our videos with our friends and all over the world . We can even earn through Youtube. Unregistered users may watch videos and enjoy and registered users may upload an unlimited number of videos . Its the world's 3rd most traffic receiving website . In November 2006, YouTube was bought by google for $1.65 billion . YouTube was founded by Chad Hurley, Steve Chen, and Jawed Karim, who were all early employees of PayPal .

Enter the website by clicking here.
3. Blogger :
It was launched by Google in August 23, 1999 by Pyra labs . It is one of the earliest blog publishing tool . In the year  February 2003  , google acquired Blogger and made it a free of cost (Pyra charged it earlier ) . It is much reliable as it has quality servers . It allows us to upload photos , post comment and share our views .

4. Gmail :
This is the mailing service offered by google . It was started on March 21, 2004 . It has initial storage capacity of 1gb per user . It has 193.3 million users monthly . It provides chat box , spam filter , ability to prioritize Inbox , Google Buzz , and Google Lab facilities . Gmail does not allow users to send or receive executable files or archives . Gmail was ranked second in PC World's "100 Best Products of 2005″ .
Enter the website by clicking here
5. Google Earth :
Initially  released in June 28, 2005 . It is a virtual globe, map and geographical information program that was originally called EarthViewer 3D . It was created  by Keyhole, Inc . It is also available as browser plugin and mobile apps . Google Earth displays satellite images of varying resolution of the Earth's surface, allowing users to see things like cities and houses .One can also explore and mark places  on the Moon, and Mars even .
Download Google earth here
6.Google Maps :
This is a web mapping service offered by Google . It was launched at February 8, 2005 . Google Maps provides high-resolution satellite images . Like many other Google web applications, Google Maps uses JavaScript extensively. When user drags the map, the grid squares are downloaded from the server and inserted into the page . It also provides ad free Google Maps API services . By using the Google Maps API, it is possible to embed Google Maps site into an external website . It is also available for mobiles .

To Enter this page click here
7. Adsense & Adword :
Those two programs are created by google to help webmaster advertise their website, and to make google rich. Adsense is one of the most preferred way of online earning . on June 18, 2003 Adsense was released . AdWords is Google's main advertising product and main source of revenue.It was released by October 23, 2000 . One of the disadvantages and criticisms of this program is Google's inability to combat click fraud.
8. Web Master Tools :
Find out how Google sees your site. Verified site owners can see information about how Google crawls, indexes and ranks your site,analyze search data,see how many people found your site in search results, and how many people clicked on it,receive alerts in your inbox. It  tells you if we detect that your site has malware or generates errors and check who links to you . It tracks links from all over the web, and will show you who added a link to your site.Tell Google about your site ,submit Sitemaps and see how many pages we added to the index.
9. Google Chrome :
It was first released as a beta version for Microsoft Windows on 2 September 2008, and the public stable release was on 11 December 2008. It works at mac , Linux and Windows OS . It is one of the fast growing web browser over million plugins . Its considered as the worlds fastest browser . It is showing drastic growth these years . Chromium is the parent project of Google Chrome .
Download Google chrome here
10.Google Translate :
This is a free and very useful service offered by google . The service was introduced in April 28, 2006 for the Arabic language . It is also made available for Android and iphone version . Original creator of Google translate is Franz Josef Och . Google translate bugs are so popular . It can translate over 60 languages with much accuracy .
To Enter this page click here
Hope this article was useful  . There are lot more Google products , and my wish is even wish to work at google . Enjoy many Google products and share your views with us
.